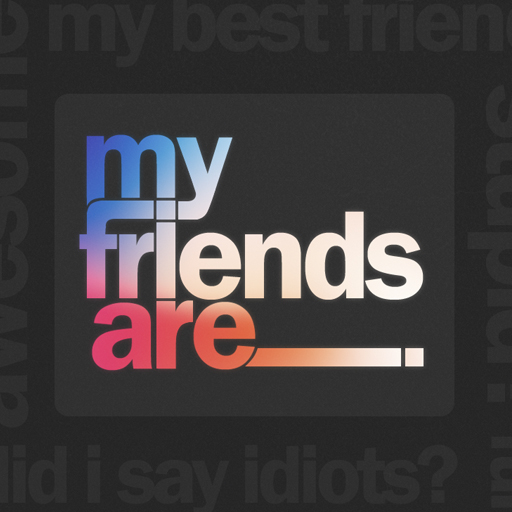 My Friends Are
From the minds that brought you I Can't Believe It's Fact and Never Have I Ever, comes an all new experience in embarrassing your friends!
Introducing My Friends Are __ , the game where crude humour is rewarded.
Do you have a dirty mind? Are you sick of people telling you to behave yourself in public because you're "embarrassing the family"? Well this is the game for you!
It's so simple, even you can play it (yes, I'm talking to YOU). All players take turns being the object of ridicule—or perhaps your friends are kind and supportive, in which case you should find another game.
Have all the sensitive players all left the room? Okay! Back to the rules!
Each round, a fill-in-the-blank statement will be shown on the screen about one of the players and everyone fills out an answer that they think will receive the most support from the rest of the group. After everyone has provided a response, all answers will appear on the screen and prompt people to vote for their favourite. Whatever you do, don't draw a BLANK… Get it!? We're all hilarious here…
Whoever receives the most votes wins the round. Score big to win the whole shebang!
Up to 12 people can play at once, so if you're a baker's dozen, it's time to get rid of your least favourite friend.
In this game, the dirtier and more slanderous you are, the better.
But remember, know your audience…
Warning: this game is intended for a(n) (im)mature audience.
Play for free on AirConsole: https://www.airconsole.com/play/card-games/my-friends-are-___